Troy Main Closes out last Season:

4th Place for WSA Minnesota North Regional

14th place in the Nationals.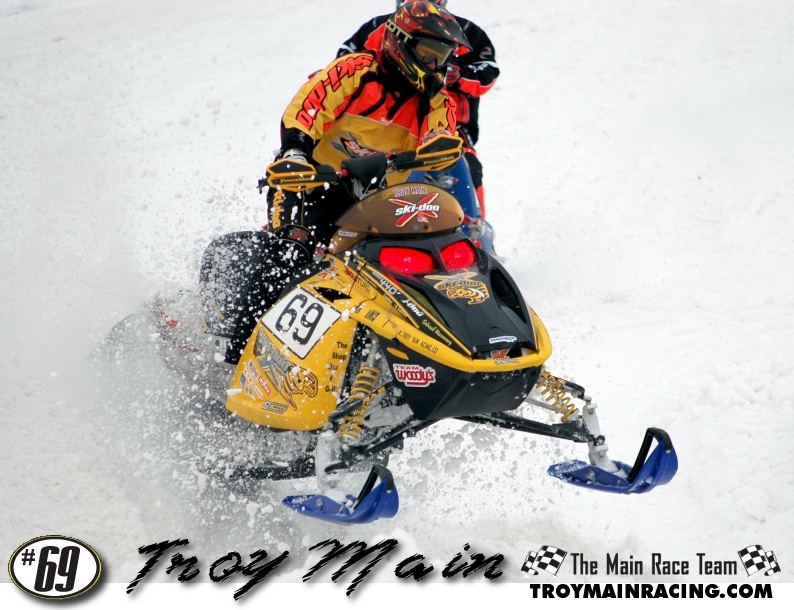 ---
MARCH UPDATE
Through the month of March, Troy raced Hill City on the 3rd, Cloquet on the 12th and Mount Itasca in Coleraine on the 19th. Troy wrapped up the season finishing 4th overall in Minnesota North and 14th overall in the National WSA Vet class.
FEBRUARY UPDATE
Troy spent February holding his own within the ranks of Minnesota North and National racers. During the weekend of the 12th at Green Bay, Wisconsin, Troy worked his way up to 13th nationally. During the last week of the February, Troy raced in Detroit Lakes, Minnesota and due to his stellar showing he held his 3rd place standing in the Minnesota North division.
Photos of this month races can be viewed in the
Pix
section of TroyMainRacing.com.
JANUARY UPDATE
Lets bring you up to speed!
Finishing in 3rd place at Hill City
on January 1st and 2nd, Troy is feeling confident about this 2005 season. The Main Racing Team made quite the impression at Hill City that weekend, they will definitely be remembered. They send their gratitude out to those dedicated
team members
and
sponsors
that brought them to this point. Troy and Sean are focused on training and building a stronger TEAM. They are excited for the upcoming National event at Cantebury on January 14, 15 & 16. Troy will be racing in the Pro Plus 35 class for this event.
What we are working on now:
The TEAM is going on tour. Come join us, we are taking the bus, trailer and the sleds to Wisconsin to visit the sponsors that support our TEAM. They know we are coming, but we need a count of people to reserve the condos at The Lumberjack and for lunch at The Shop. Please email Troy or the Team Manager at oberta@ci.fridley.mn.us. We would like a count of people by January 20. We will respond with more information after RSVPs.

We are setting up a photo-shoot with the 2005 MX Z X 440 LC REV. Question, are you a HOT female? Might you be ready for a high quality, tasteful calendar photoshoot? Let us know! If not, see below.

Creating a 2005 calendar for our sponsors. An as yet un-named Gentlemens Club is setting up a shoot for all you WSA Snowcross Main Race Team sponsors out there - this should be great!
What we need your help with =)
Getting our sponsors decal's so the calendar photo-shoot reflects your sponsorship while its brand new and un-damaged!

WANTED - Fuel / Oil / Lubrication Sponsor... if you can help, contact us!

Participation - come to the races, check out the website for the race schedule. Let Troy know you are going to attend by sending him an email at troy@troymainracing.com

If you know someone who may be interested in sponsorship, just point your web browser to the Main Race team sponsorship information pages!
The Main Race Team has:
Troy launched 2004-2005 WSA season in style at the Black Magic Nationals in Duluth MN!

Troy joins Vet Class in WSA events. Learn who the WSA is here.

Added a new WSA snowcross team member, long time friend and snowmobile enthusiest Sean Schaaf - Welcome aboard!

Troy Main, formerly WSA #620 has changed numbers to, you guessed it, #69! (only WSA Pro-class racers can get the two-digit numbers)

Just purchased a brand new Ultra-Fast 2005 MX Z X 440 LC REV- check it out here.

Added new sponsors including Woody's, Ski-Doo, PowerMadd, Scott USA, Tim's Black & Orange Bar & Grill, TGR Copy (Blaine, MN) and The Shop Bar (Webb Lake, WI). Thank you all so much for your support!!

Got the race bus painted and prepared for the new season. Want to join us on the bus? - Sign up!

Updated the website with new images and content. (Designed by Michael Swan and hosted by FastURL.com)

Got the new sled race-ready for the new season. This includes decal printing and application, adding high-performance new traction studs from Woodys and hand-guards from PowerMadd.
---
last updated 12.02.2004